The best people in medicine will care for you at Brisbane Private Hospital. Here, the focus is you.
Our team of surgeons, specialist doctors, nurses and other professionals will ensure that your holistic health care experience is the best it can be. We are a leading hospital renowned for patient outcomes in orthopaedics, neurosurgery, ENT and general surgery.
Our partnership with Damascus Health Services means we can offer a range of recovery-led drug and alcohol rehabilitation treatments.
Thanks to a unique combination of specialist medical and surgical services, including a 24-hour Intensive Care Unit, we treat over 20,000 patients each year.
Please be assured that while coming to hospital may be unsettling, we are Brisbane Private, experts in caring for people. You're in the very best hands.
IMPORTANT INFORMATION FOR PATIENTS AND VISITORS
The Queensland Government has declared Greater Melbourne an Interstate Area of Concern from 11 May. Effective immediately we are banned from allowing anyone into our hospital if they have been in Greater Melbourne in the last 14 days, or since 11 May 2021, whichever period is shorter.
Anyone affected by these restrictions will, however, be permitted if they obtain a negative COVID-19 test result in Queensland.
The Local Government Areas included in the Greater Melbourne region are listed on the Victorian Government website: https://www.coronavirus.vic.gov.au/coronavirus-covidsafe-settings.
We appreciate your understanding and cooperation during this time
Visiting hours
Visiting hours 10:00 to 12:30hrs and 15:00 to 20:00hrs, with the exception of Day Surgery and Damascus.
Intensive Care Unit – Rest period between 12:00-15:00hrs with two (2) visitors permitted.
Visitors must not have travelled overseas in the last 14 days, or be unwell and must complete Healthscope's COVID-19 QR screening using QR codes displayed at all Hospital entry points.
We ask that visitors maintain social distancing, keeping 1.5m apart.

COVID-Safe Check-In
As part of the hospital COVID-Safe Plan, it is a requirement that all visitors and patients check in on arrival. This has been introduced as a COVID-19 Contact Tracing platform to streamline the screening process for ALL people entering our hospital. When you next attend our hospital you will be prompted to complete the online screening process via your mobile device prior to entry.

COVID Screening – Patients, Visitors and Contractors
In addition to completing the COVID-Safe Check-In, all patients, visitors and contractors will be required to meet our screening requirements prior to entry:
Patients will continue to complete a comprehensive screening questionnaire on admission.
Visitors and contractors will be asked a series of screening questions on arrival.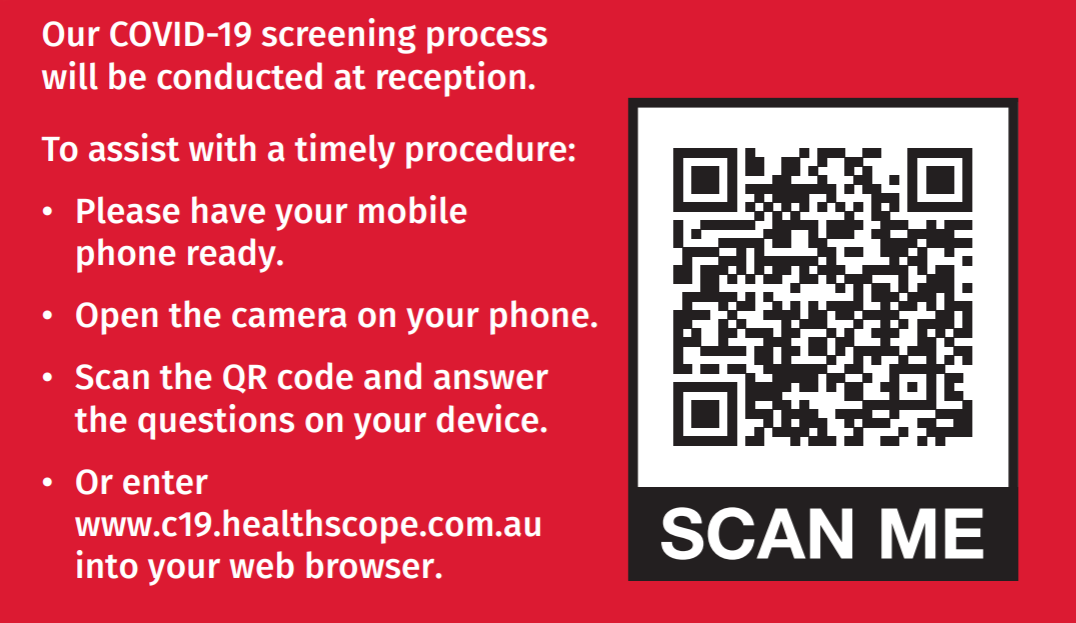 A sign in register will also be available if you do not have a mobile phone with the QR scan.
Getting to Brisbane Private Hospital
Brisbane Private Hospital parking map