With a dedicated focus on the provision of quality healthcare, Brisbane Private Hospital is a leading hospital renowned for patient outcomes in orthopaedics, drug and alcohol rehabilitation and neurosurgery.

Brisbane Private Hospital offers a unique combination of specialist medical and surgical services including a 24 hour Intensive Care Unit, medical coverage and full time intensive care specialists.

Through Damascus Health Services we provide a range of drug and alcohol rehabilitation services that will suit all patient needs.

As a 181-patient bed private hospital, Brisbane Private treats over 20,000 patients each year with the assistance of our large, dedicated team.
IMPORTANT INFORMATION FOR PATIENTS AND VISITORS - EFFECTIVE SATURDAY 24TH OCTOBER 2020
Brisbane Private Hospital will resume original visiting hours.
Temperature screening will cease at all Hospital entry points from 0500hrs on Saturday 24 October 2020 however QR scanning for anyone entering and leaving the hospital is now required (including staff and VMO's).
The Brisbane Private Hospital Policy Amendments to the Guidelines for COVID-19:
Visitors to Hospital Inpatients is a temporary amendment to the Hospital's visitor policy, details are as follows:
VISITOR NUMBERS
A maximum of two (2) adult visitors is recommended per IN-PATIENT. These visitors must not have travelled overseas in the last 14 days, or be unwell and must complete Healthscope's COVID-19 QR screening, please see attached poster including instructions which will be displayed at all Hospital entry points. Please see further details below.
Social distancing (1.5 metres apart) must be observed when visiting.
All authorised visitors should be over 16 years of age or as approved by EXEC/HNC:
Paediatric patients– Limited to 2 parent to remain with patient, with one parent to stay overnight.
Day procedure – no change from original guideline. No visitors, only pick up post procedure.
Intensive Care Unit – One (1) visitor permitted.
Damascus – no change from original hospital policy.
VISITING HOURS
Visiting hours for inpatients only, will revert back to between the hours of 1000 - 1230hrs & 1500 – 2000hrs. Visitors are NOT permitted to wait in the patient's room or in any other area of the facility.
Intensive Care Unit – Rest period (no visitors) between 1200-1500hrs.
In special cases, visitors will need to be permitted for out of hours visits. Director of Nursing / Hospital Coordinator should approve this.
RECORD KEEPING
Visitor QR screening will now take place instead of hospital staff manning entry points. This process will require the use of a smart device (mobile / iPad), in the instance where an individual does not have a device a sign in register will be available on all car park levels at the lift entrances and the Main Hospital entrance.
Hospital patients will complete screening during the admission process.
One significant other may attend with a patient to specialists appointments.
We wish to thank our patients, visitors, staff and specialists for their patience and understanding over the last few weeks and ask for your continued support during this time.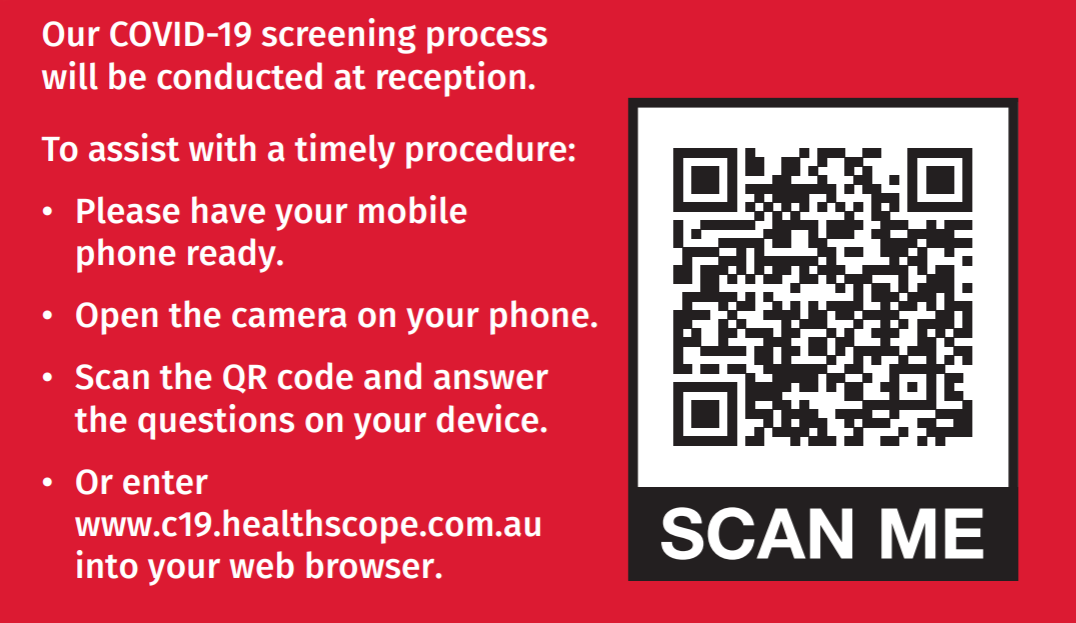 A sign in register will also be available if you do not have a mobile phone with the QR scan.
Getting to Brisbane Private Hospital
Brisbane Private Hospital parking map